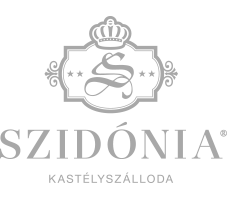 Today's Szidónia Castle Hotel dates from the 16th century, originally functioned as a single-story hunting lodge. It was built in romantic, classicist castle, and in 1926 it was redesigned by Vatican Hungarian Ambassador Elek Verseghi Nagy to the most modern needs of the time. At that time, the swimming pool designed by Alfred Hajós was added and the thatched Japanese house was built next to it.
The cozy rooms of the castle, named after women, and the Vital House provides comfortable relaxation, the swimming pool, whirlpool, sauna, steam bath and thermal therapy provide recovery.
The beautiful French garden of the Castle Hotel Szidónia is decorated with spheroidal boxwoods, double hedges and flower squares. Connected to its southern facade, the 50×50 meter small pool with fountain enclosed garden is ideal for romantic walks or wedding ceremonies.
The castle hosts numerous programs, concerts and recitals. Guests can try Nordic Walking or aqua fitness, picnic in the castle park, you can taste the finest wines in the area, or you can go hunting or truffle picking.
The Szidónia Castle Hotel is an ideal choice for a romantic getaway, as a venue for dream weddings, and with modern technology for conferences and business events.
Weddings
Corporate Events
Wellness
Event capacity:
110 persons
Destinations

25 km from Sopron, in a secluded, quiet village, Röjtökmuzsaj, the classicist-style Szidónia Castle Hotel is located. The Castle's comfortable rooms and wellness facilities with Vital house and beautiful French fountain garden with boxwoods and hedges is an ideal choice for couples, families, weddings and business events.
The castle hotel and its surroundings offer many programs and attractions. Food and drink tastings, sports and wellness programs and historical walks are regularly organized. The nearby Mill Museum offers a view of the renewed Watermill, and the parish church of the village is a well-known place of pilgrimage.
There are many hiking trails in the area, truffle picking is available 25 minutes from the hotel, for hunting enthusiasts, hunting is organized in the surrounding forests, and 20km away in Zsíra, the Sonnengolf Club is awaiting golfers.
The city of Loyalty, Sopron, the Fertő-Hanság National Park, the Lake Fertő and the Fertőrákos Quarry can be easily reached by car, and small Austrian cities such as Mörbish or Rust, where opera performances are held regularly, can be reached by pleasure boats.
Gallery Hungarian Castle Hotel Association