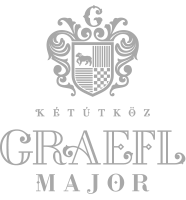 The only and last Graefl castle in the countryside, built in Art Nouveau style in Kétútköz, was restored to its former glory in 2016, with its magical castle tower and its original facade. The aim of the renovation was to preserve the old look, techniques and building materials of that time. In this way, thanks to the dedication of the owners, the work of conservationists, renowned restorers, art historians and craftsmen, the castle shines in its original splendor. The suites in the castle and the garden lodge also feature genuine the Art Nouveau style.
Graefl Castle cuisine includes home-grown, traditional and organic vegetables, fruits and meat. Breakfast includes fresh homemade milk, artisan cheeses, butter, cottage cheese, homemade bread and tomato picked in dew.
Concerts, literary evenings and concerts that suit the age of the castle will fascinate guests in its garden pavilion and ornate halls.
The Graefl Castle is an ideal choice for those fleeing the accelerated world, for those who want to recreate, relax and enjoy the little pleasures of life, and the perfect venue for romantic weddings.
Weddings
Gastronomy Events
Corporate Events
Event capacity:
150 persons
Destinations

Halfway between Egerfarmos and Poroszló, the Heves County Kézútköz and the Graefl Castle are located. The castle regularly hosts classical music performances, concerts and numerous hiking trails in the area.
The nearby Tisza Lake awaits the lovers of water with its excellent beaches, water activities and fishing opportunities. The Hortobágy National Park is a 30-minute drive away, and Eger offers many attractions and activities to the north-west.
Gallery Hungarian Castle Hotel Association