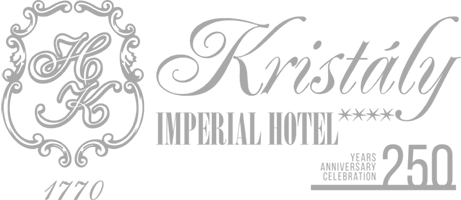 Kristály Imperial
Hotel ****
The Kristály Imperial Hotel ****is the oldest hotel in Hungary. The hotel located 70 km west from Budapest, in the heart of the "city of waters", Tata.
The Kristály Imperial Hotel**** built by the Esterházy family, the hotel was formerly known as Szarka Inn. Among the guests of our hotel we were able to greet many famous historical peope, as Queen Elizabeth Wittelsbach of Hungary, Blanka Teleky, Lujza Blaha, Mór Jókai, Károly Kisfaludy, Mihály Vörösmarty, Mór Percel, Árpád Feszty, Archduke Franz Ferdinand, János Heltai, Margit Dajka, Gyula Kabos and Ottó Habsburg.
Today, the hotel awaits domestic and foreign guests visiting Tata, with a two-storey underground garage, restaurant, wine bar, relaxation wellness and medical center, and hospitable staff.
private events (birthdays, anniversaries)
weddings
conferences
trainings
individual guests
fashion shows
car and motorcicle shows
Event capacity:
180 persons
Destinations

The Old Lake of Tata and the Lake Cseke are magical in all seasons. A pleasant walk will take you to both locations from our hotel. In addition, the Gerecse and Vértes also provide a number of excellent leisure programs.
Gallery

Kristály Imperial Hotel****
Hungarian Castle Hotel Association